From Chuck's e-Mailbox #3: Meet Gino B & his Omega Collection

I received an interesting email on Tuesday 7 October 2003 that I have asked for and received permission to share with you all. As most of you know, I do receive a number of unsolicited emails on a daily basis, and from time to time, I do share them with the forum. Following below is first a Legend as to how I'm formating the messages as they have gone back and forth, then the actual conversation between Gino Balbi of Milan and myself.
Legend:
An E-Mail Message received from Gino Balbi on 7 October 2003:
My reply sent 7 October 2003...

Gino's reply received 9 October 2003
My reply sent 9 October 2002...
Hi Chuck,
I'm an your fan and I would express to you very many thanks for what you have done, and what you are doing continously, for all the fonds and collectors of Omega models and specially for Speedmaster fans & collectors.
Well thank you sir! It's always nice to hear good things about my efforts!

You are priceless, just today I have read your new revision on Dimensions of Selected....., you're really fantastic...

Eh, most days these days I'm re-active, not pro-active... People ask a question, I reply and or update as needed. I've needed to do that for quite some time. It did turn out nice though... =)
I discovered your web site and your articles on speedy family at the beginning of the current year and in your articles I have found many confirmations to my personal researches and also many and many news.
The topic is deep and broad, and while I can't say I learn new things every day, I do usually learn several new things every week.
My enthusiasm for the speedy began in the 1968 when my father said he would have to present me a watch for the eighteenth birthday and my choise was a speedmaster model (ST 145.012). I still remember the price: eighty thousand italian liras (I have preserved the Omega catalogue of that year too, see the attach 5.jpg).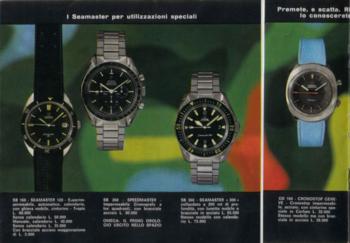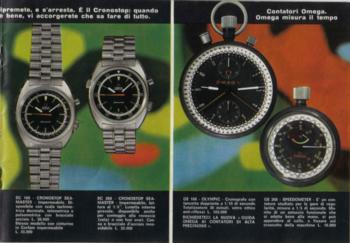 This was my sole watch for many and many years, all the days and all the nights, 24 hrs/24 hrs ( I sleep wearing watch), untill 1987 when came out the automatic day-date model (ST 376.0822); my second speedmaster !
The "Grail Watch"!!! One of my all time favorites! Great watch, wish Omega still made it...

Ah... wish Omega still made it... never say never.....

"GrailWatch": is the first time that I hear this, can you explain me better?

My first eBay Omega vintage watch purchase came down to a ST 376.0822 and a ST 176.0012... The .0822 was located in Germany, the .0012 was located in Iowa (about 5 hours driving for me)... Since I was new to purchasing very expensive things on eBay, I didn't speak German (still don't), was familiar with the Mark II style case (this was 10 months before I owned a pre-moonwatch) and was very unknowledgeable about the availability, I concentrated my efforts on the .0012 (and won it) and let the .0822 pass. A month or two later I decided I wanted the .0822 too and found they were not the easiest model to find (to say the least)... Then came the quest to locate one for my collection. A quest that was near Arthurian in nature, with the .0822 being the Grail. It took me nearly two years of effort, with a number of setbacks and disappointments to the point of dispair, but I did eventually purchase an excellent example of the model I had came to call "The Grail"...

It's a personal nickname for that model.
Some years later (1993) I decided to start a collection of speedy models and now I'm proud to show you my speedy collection (and also a little seamaster collection) collected during these years and so I hope you enjoy as well with the sight.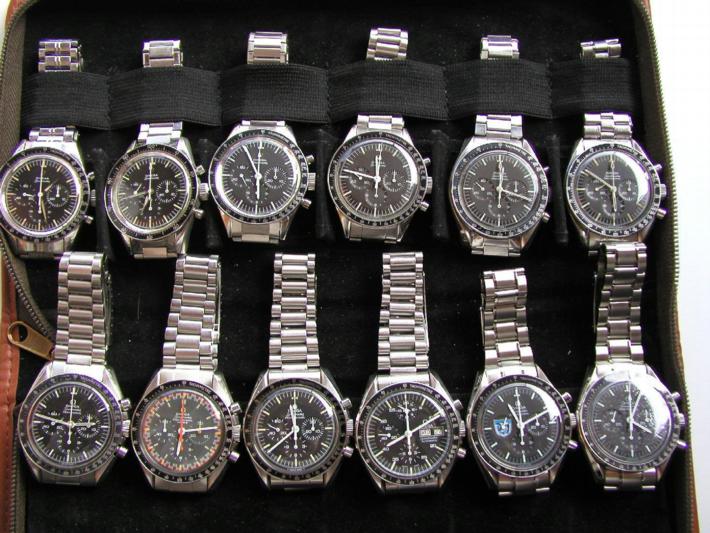 #

Case Ref. #

Calibre

S/N

Year

Remarks

From the left of the top row we have:

1

CK 2998-4

c.321

17764xxx

1959

2

CK 2998-61

c.321

19584xxx

1961

3

ST 105.002-62

c.321

20525xxx

1962

4

ST 105.003-63

c.321

20256xxx

1963

5

ST 105.012

c.321

24014xxx

1966

6

ST 145.012

c.321

25006xxx

1967

My First...

From the left of the bottom row we have:

7

ST 145.022

c.861

32192xxx

1970

post/m. 1st gen cback

8

ST 145.022

c.861

44121xxx

1980

Mk II dial

9

ST 145.022

c.861

48254xxx

1989

20th ann. (1216/2000)

10

ST 376.0822

c.1045

48231xxx

1987

11

ST 145.022

c.861

48381xxx

1989

Apollo X mission watch

12

ST 145.022

c.861

48402xxx

1999

Hello Houston (30th Ann.)
That's as impressive of a set of Moonwatch Cases as I've ever seen in one picture... Even top's Gerry L's: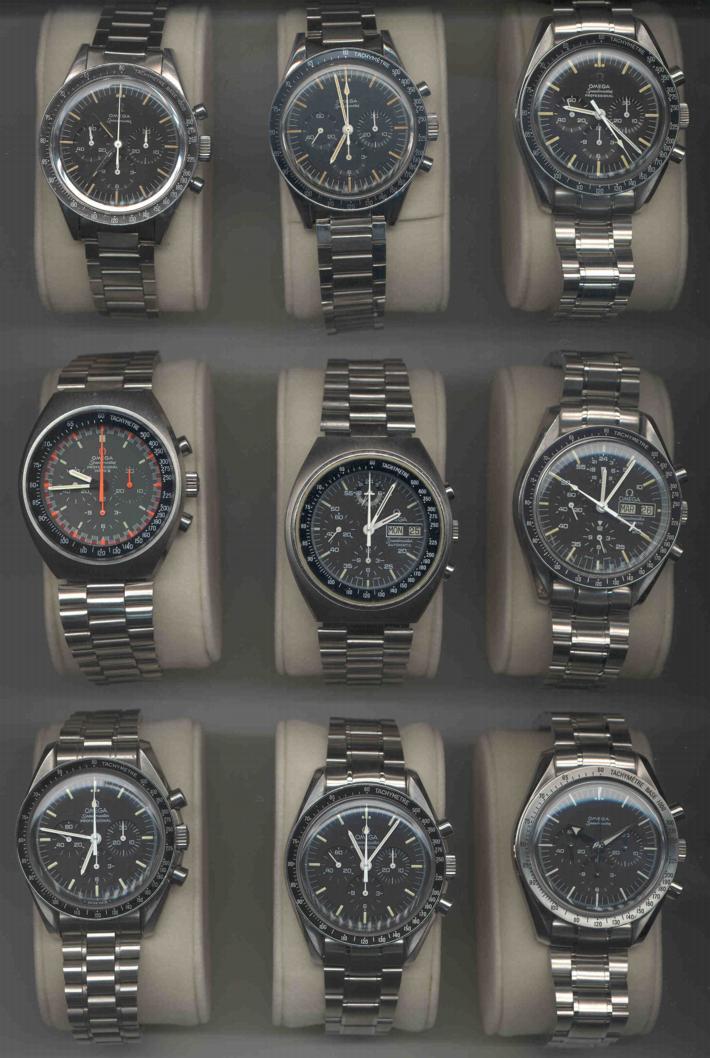 #

Case Ref. #

Calibre

Year

Remarks

From the left of the top row we have:

1

CK2998-2

c.321

1959

2

ST 105.002-62

c.321

1962

3

ST 105.012-66

c.321

1966

From the left of the Middle row we have:

4

ST 145.014

c.861

c.1969

5

ST 376.804

c.1045

c.1977

6

ST 145.012

c.1045

1987

From the left of the bottom row we have:

7

ST 145.022

c.861

1994

25th Anniversary edition

8

ST 145.022

c.863

1996

Sapphire Displayback

9

ST 145.022

c.1861

1999

1957 Re-Edition
We need your knowledge, expertise and participation over on the TimeZone Omega Forum. Here is a link to it:

http://beta.timezone.com/forum.aspx?forumId=omega

A bunch of fellow Speedmaster enthusiasts congregate there to discuss all things Omega.

Not only do I hope you join us and become a regular reader and participant, I would like to ask your permission to reproduce this reply to you in the forum so others may enjoy your collection and thoughts.

Please let me know if this is ok with you...

Thanks for the honour, of course yes, you have mypermission,I find interesting this formof dialogue.

Done!
About the ST 105.012, yes, you supposed right, the caseseback retain the tipical twin-angle slope of CK and ST 105.xxx series, instead of the single angle of the ST 145.012 . In this case this is the only external way to differenciate between the ST105.012 and the ST145.012 without opening the case and reading the ref. inside.
Very cool, I'll note that in the Casebacks guide! Thanks!
Another interesting feature on the caliber 321 is that both the #1 and the #3 of mine have engraved on the bridge "adjusted two 2 positions. Do you have ever noticed or met this detail in your researches ?
I've noticed this on a number of models but it remains on the list of things to explore..

Only in Speedy c.321 or also in other models? Which is the highest serial number you have noticed with this feature? My is 20525372 (1962).

I have yet to explore this personally. Always something new I have to explore and learn!
And finally, but I haven't yet taken a photograph:
| | | | | | |
| --- | --- | --- | --- | --- | --- |
| # | Case Ref. # | Calibre | S/N | Year | Remarks |
| 13 | ST 145.014 | c.861 | 31002xxx | 1970 | Mark II |
| 14 | ST 176.009 | c.1040 | 34248xxx | 1974 | Mark IV |
| 15 | ST 376.0806 | c.1045 | 39186xxx | 1984 | Mark V |
Very nice. You have the makings of a very comprehensive Speedy collection!

I only own 6 Pre-Moon/Moon Speedys: CK2915-3 (which has the soon to be adopted CK2998 hands on it), 105.003-65, 145.012-67, 145.022-59 (Pre-Moon White Painted Logo), 145.022-89 (20th Anniversary Edition 1169/2000 <- Cool number eh?), and my most recent addition a c.1996 c.863 Display Back.

Very interesting, I don't knowabout a CK2915-3 serie with the CK2998 hands on it, CK2915 was in production only two years and it'svery strange that Omega had a ...-3type,however also CK 2998has a ...-4 type ,can be a real sequence ? Youropinion ?

Yes, well... actually there are several questions in that sequence... 1) Very Interesting that the CK2915 had a -3... Yeah, my example was the first I've seen, but I've since seen one on eBay that is nigh identical to mine... 2) I've seen CK2998 -3's -4's -5's and -6's... In fact, this morning I noticed eBay Auction # 2661406190 (can't post direct links to eBay auctions or commerical watch sites here in the forum, so you'll have to do a search on your own) which has a 2998-61 (which may be when Omega started switching over to case reference numbers with a model year indicated.

From what I've been able to puzzle out, there were 4 variations of the CK2915, with the CK2915 being the one most people remember, and the C2915-3 being nearly (or actually) identical to the CK2998. And from what I've seen the CK2998-6 is nearly (or actually) identical to a 105.002/105.003...

I have two Mark II's (one Black Dial - My First Omega and a Red/Orange dial), a Black dial Mark III, a Mark IV and Mark V.

In addition I own a complete set of the Stainless Steel c.1045 series (Seven models total including the 376.0822 and the Mark V), and a complete set of the German "Teutonic" Speedmasters (which also include the Mark V), I also own a 1986 Titanium Moonphase Chronograph (which isn't dialed either Seamaster or Speedmaster and has elements of each line in it's heritage, an Omega "Driver's" "Bullhead" Chronograph as well as both a c.910 and c.911 Flightmaster, at least the Stainless Steel ones. And then there are the Seamasters, Oy Veh!

Very very fine, congratulationsespecially for the 345.08010 , it's very rare ; I am on finishing straight for a 345.0809 !!!!

That was a wild deal... It had a Buy It Now for a very reasonable price, but the seller was an Iranian living in Germany who didn't speak English. However, his brother living in England did speak fluent English and provided his phone number. So I talked to him and the deal went very smoothly. If you would have told me 20 years ago I (an American) would have placed a sizeable amount of money on the line in such a circumstance I would have told you that you were crazy. I guess it goes to show that the Internet brings together dissimilar people and breaks down barriers that would otherwise separate them.

I too would love to acquire a 345.0809, however the new model with the c.1866 is close enough that I may just settle for that...
I love all the speedies, they are wonderful in every shape because are testimony of their own time, are you agree?
Agreed, I am very fond of them. I especially like the Variant models, while the moonwatch are classics, there are plenty of wonderful models within the variants Omega produced.

Yes, I'have found very interesting also the Gilliam custom on 176.0012,I would like something like with my 176.009 (with a spare case oviously!!)

I'm pretty sure Gilliam could accomodate you if you had a spare Mark IV case.
(Gino also included a picture of a very healthy Vintage Seamaster "three hand" spread):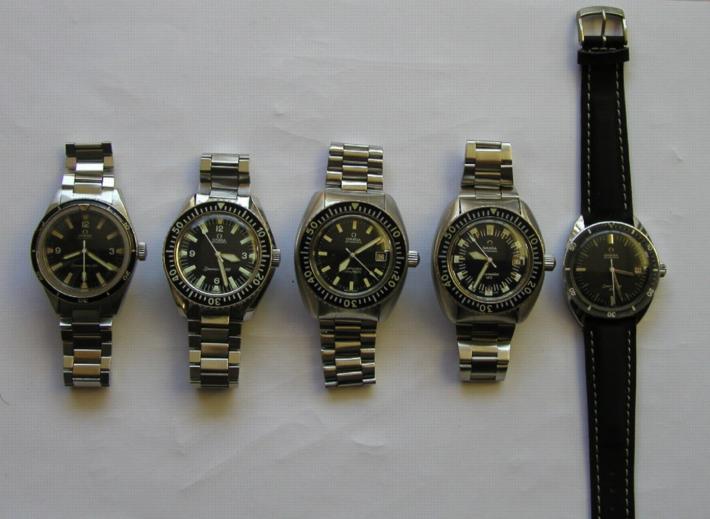 Then there are the Seamasters. I don't collect (many) "Three-hand" watches, but I've purchased a couple of 1960's Seamaster 120's for my sister, one Manual wind and an Automatic. They are very nice watches.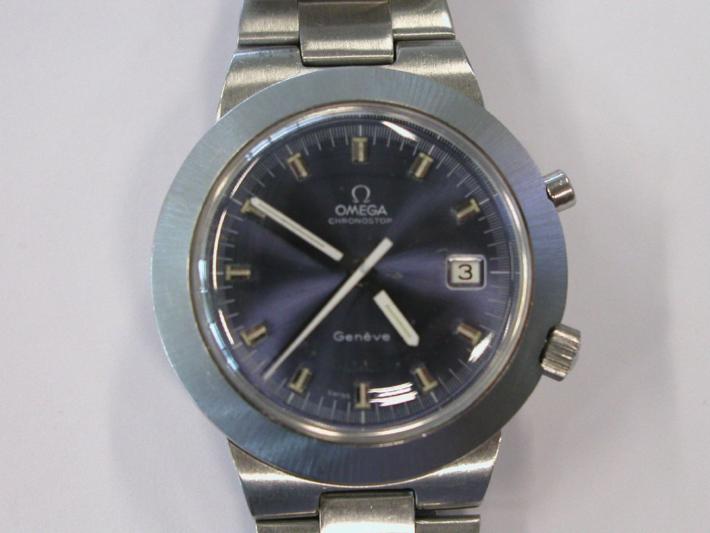 Have you ever seen this type of chronostop (it should be a variant for the italian market only, I suppose) , the case and braceletare the same of Dynamic.

No, I can't say that I have... Hopefully this posting in the Omega Forum will generate some replies!

My Seamaster holdings are getting to be nearly as extensive as my Speedmaster holdings.

Here is a post on my latest Seamaster acquisition... What do you think?

I enjoy with you,simply wonderful dialfrom 1970, your photographs are so clear that's a pleasure for the sight.

I wish I could take the credit for those pictures... They are the Seller's pictures. The are very nice, as is the watch...
Enjoy !
I have, and I hope you do as well.

I must say it is a genuine pleasure to meet your acquantance and I hope you will visit the TimeZone Omega Forum and perhaps join in the discussions there. It can be very rewarding!

The pleasure is mostly mine;I' visiting the TimeZone Omega Forum but not daily , rather less than more,but in the near future perhaps I'll join too.
Ciao from Milan,
Gino
Hope to hear from you soon in a VERY SUNNY and warm Chicago!

Cheers!

Chuck

P.S. I've included both of the Omega Forum Moderators and Gerry L in my reply so they can see your wonderful spread of Speedys!

Hope to hear from you soon and aloha to Gerry L and to Omega Forum Moderators!

Ciao from a very sunny (almost these days) Milan,

Gino

P.S. A final question but very hard question, in your articles and recently in a post I have read that yourconvinction (opinion)is that the true first "Moon Watch" that was worn on the moon was the ST 145.012-67, well... but since Armstrong left his Speed in the LEM of course the first Speed on the Moonwas that of Aldrin,

Yes, that is my understanding of the course of events.

now from the Buzz's picture we can clearly notice that the Speedy is, almost certainly, a ST 105.003 ........Why your opinion in favour ofthe ST 145.012 ?

Well, because that is the case reference that John Diethelm of Omega Vintage Information identified as being Aldrin's. Someone sent the serial number of his Speedy to John who said something to the effect ,,Your watch is a ST 145.012 that is identical to the first watch worn on the moon by Buzz Aldrin,, or something similar... I don't have that particular document close to hand and it may take some time to locate it, but that's the source.

To be honest, I can't see Aldrin's wrist clearly enough to confirm (with a lack of crown guards) that Aldrin is wearing an earlier model, but looking at the picture, I could see where people could argue the case reference either way.

Probably also Armstrong weared aST 105.003(why it should be different?).Have you any information how many ST 105.003were bought by NASA in total (Cernan' sspeed has the Nasa s/n 28 and sothere is no reason to doubt that the ST 105.003were almost 28) and how many ST 145.012 ??

We discussed this to great length almost exactly two years ago in the forum... A fellow TZOFer (the late Michael Stein) and myself discussed, debated is a better word, the topic of if the c.861 actually made it to the moon or on a moon mission. Fortunately I was able to archive most of those posts, unfortunately I wasn't as sucessful at getting all of them. Here is a link to the folder where I have those posts archived...

Supposedly, NASA (At the time) acquired a total in the range of 92 or 97 Speedmasters.

The pictures in "ATime Capsule" (pg 107)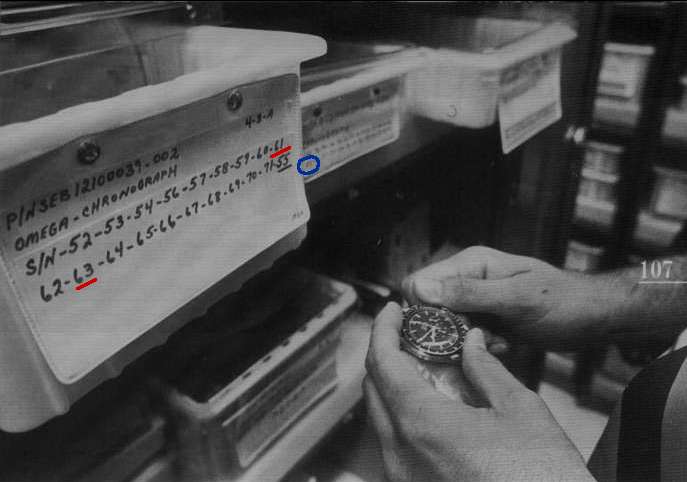 Here is a link to a post (within the debate with Michael Stein) where I discuss that very photo... I also mention "I'd like to direct your attention to the blue box... It's hard to make out because of depth of field/focus... But it almost appears to be a 84... You can see it much clearer in the enlargement ... It seems likely that this is a bin of another batch of Speedmasters. If you count the number of double-digit S/N's starting from 72 (one more than the in-focus bin) you will end up with a number in the 92-96 range which is consistant with the previously cited number of 93..."

Incidentally, the watch being wound in this photo is clearly a Professional with twisted lugs.

show some 145.012 during qualification testsbut the name "Professional" first appeared on the watch face after the official adoption by NASA and since the letter of final test resullts is date March, '65 of course the photos must belong tosubsequent tests.

I'm not sure when this photo was taken. It would have to be after mid 1965, but it could even be the late 1970's... I'll bet that the person who snapped the picture never would have guessed it would be the topic of much debate so many years later.

I'm very concerned to an your interpretation, thanks in advance.

I have been comfortable with taking John Diethelm's word that Aldrin's watch was a 145.012.

While I'm thinking about it, I'd like to point out to you another series of posts I've archived relating to the KCSC (The Kansas Cosmosphere and Space Center in Hutchinson Kansas) where Alan Shepard's and Ron Evan's Speedmasters are displayed... Here is a link to the thread on the topic... I think you'll find it interesting to read...

---

In any instance, Since I have permission to share this in the Omega Forum, I've decided to make my reply to Gino public and bring the rest of you all in on our conversation. Please Welcome Gino to the forum, and I hope he becomes a regular reader and participant in our discussions!

-- Chuck