Date: Mon, 30 Sep 2002 19:29:49 +0100
>X-Info: Scanned for viruses by armourplate.com
From: Txxxxxxxx Bxxxxxxxxxx <>
X-Priority: 3 (Normal)
To: cmaddox@xnet.com
Subject: Omega Speedmaster
Hi There,
I wonder if you can help.
I have this watch from my Dad. Any idea which it is ? Would it be worth getting serviced as the face is scratched and the strap is well worn. Any info appreciated. Pic attached.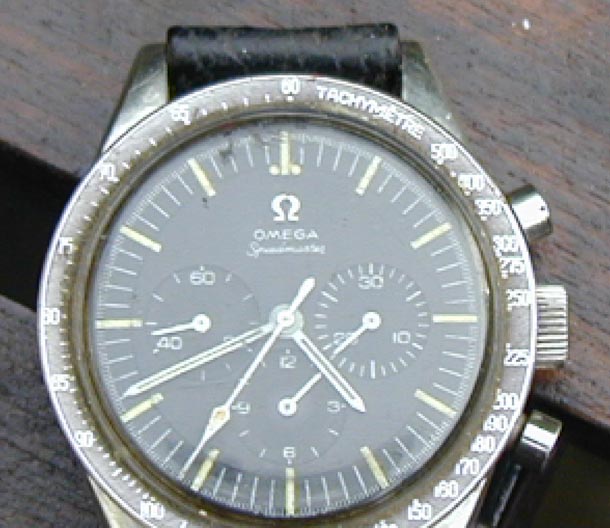 Cheers,
Txxxxxxxx
Date: Mon, 30 Sep 2002 14:10:09 -0500
To: Txxxxxxxx Bxxxxxxxxxx <>
From: Chuck Maddox <>
Subject: Re: Omega Speedmaster
Hi There,

I wonder if you can help.

Hello Txxxxxx,

Let's see if I can...

I have this watch from my Dad. Any idea which it is ?

Pretty good idea...

Would it be worth getting serviced as the face is scratched and the strap is well worn.

It's your father's watch, of course it's worth getting serviced!

Ok, here's the schtick...

What you have there is probably one of three specific modem "Pre-Pro" Omega Speedmaster. Of the three models it could be, most likely it's a 105.003. I have one of those myself... Here's a link to a picture of my example:

http://chronomaddox.com/105.003-65.jpg

The watch could also be either a CK2998 or a 105.012 also but I think the chances are much lower on either of those models (probably under 10% each)...

Ok, lets talk about the specifics of your watch...

The Strap is the least of your worries... It can be replaced with any appropriate looking 19mm strap at your convenience. In the picture above I have my example on a $25US Hirsch Windsor Black Leather Long Length strap. Or you can purchase an appropriate 1171 Genuine Omega replacement bracelet for under $100US (be sure to ask for 19mm end pieces)... Here is a picture of mine on such a bracelet:

http://chronomaddox.com/105.003-65wbracelet.jpg

The "Face" or Dial... From what I can see from your picture, the dial looks to be ok... The Crystal on the other hand could use to be replaced... Not to worry, Crystals can be had for well under $100US, perhaps even under $50 US and any competent watchmaker can swap out the crystal.

The Bezel... It looks pretty rough as well... A replacement bezel, nearly identical to the original will run you about $125US and it is also easily swapped by a competent watchmaker.

The case... She looks like she's lived an active life... The case can be refinished and an attractive satin like finish can be affected, again by a competent watchmaker...

As for the rest of it... You probably should have the watch's movement, cleaned adjusted, oiled (ie serviced), especially if there is any chance the watch has been in a situation where water could have entered the case (via the crystal, caseback, crown, pushers, etc. As these watches only have a 50m W/R on their best days if the watch was worn shipping get it to a watchmaker as soon as you can.

Some background for you... The 105.003 is the precursor to the first watch worn on the Moon, (145.012) worn by Edwin "Buzz" Aldrin during Apollo 11. It is of historical importance in that it is the model that first won NASA's certification for use by Gemini Astronauts and is continued (in later models) in use by Shuttle Astronauts on EVA's to this very day.

In fact this model was the first model of watch worn in the Vacuum of outer space (outside of a spacecraft) as it was worn by Ed White during his famous "Space-Walk":

http://chronomaddox.com/35th.html

And this is the actual watch:

http://chronomaddox.com/1stspacewatch.jpg

Your fathers is most likely the exact same model... So besides the fact it probably have great sentimental value to you, it also is a representative of a historically very significant model... So yes indeed she is well worth restoration. Sorry I didn't do the currency conversion for you, but I figure it's getting late in the UK at the moment and I thought you might prefer a speedy (pardon the pun) response!

Any info appreciated. Pic attached.

I can see you reside in the UK (where may I ask?)... If you wish please visit the TimeZone Omega Forum as there are a bunch of knowlegeable Omega owners who are regulars there, among them a number of fellow UK residents who may be able to assist you with region specific recommendations for parts watchmakers, etc...

If you have follow-up questions please feel free to ask.

Best of luck and I hope you decide to make her shine like new again!

Chuck
---
Chuck,
What a start. Thanks for the info. And so quick.
You are somewhat of an expert !!!
Txxxx,

Eh, I try... Perhaps a second or third rate quasi-expert... In reality I'm a student of the topic at hand
I live right on the UK South Coast 3 miles from a town called Arundel
West Sussex. By all means use this email in your TZ forum.
Ah, I don't think I've gotten down that far in the UK. I've made a couple of visits, once with my parents when before I was a teen-ager, and one about 15 years ago...
BTW how do I access the TZ Forum (I am used to Newsgroups
etc)
http://beta.timezone.com/forum.aspx?forumId=omega
For that a little history :
My father Pxxxxx Vxxxxxxx Bxxxxxxxx was a Navigator - Flight Lieutenant in the Royal Air Force. I presume it was during this service that he bought the Speedmaster, I'm sure some of the use comes from miles in the sky. He always liked buying quality items, and I guess the Moon Landing was around this time also.
After he left the Air Force and worked in Navigation marketing Sat Nav kit with Decca and Racal.
I remember as a child he travelled all over the world and often I would sneak into the bedroom and admire the watch. He re-married and moved to South Africa some 20+ years ago and we have always kept in touch although as life goes never enough !
He died last week and I flew to South Africa. In the bottom of a plastic bag with all sorts of tat was the very watch. Now she sits here in England with me.
I miss my father and Grandfather profoundly. My condolences, I've been there and nothing prepares you for an event like that. But it is good to know his watch is with someone who will take care of her...
I ideally would keep her as is, but the strap is on the way out (and may break) and I agree now I would like to get he restored to as near perfect as possible with ideally original parts, strap etc. Mind you I would also like to keep some of the history so maybe a new and correct service would be in order by an expert (and make sure Waterproofing etc is OK) If you can recommend someone good in the UK that would be great.
I wish I could, which is why I recommend getting on the TZ Omega Forum. Great bunch of fellows there from all over the world (a few ladies too from time to time)... But you may wish to get in touch with Omega.ch as well... Let my find that link:
I looked at http://chronomaddox.com/105.003-65.jpg and it's identical (sorry my photo is not so good) I notice also on my (Dads) watch it says Omega Speedmaster (and no professional) and on the bezel there is Tachymetre with a \ above the e (as in French) ?
Yup... Tachymètre… Or rather TACHYMÈTRE…
In fact I am staggered that you have so much knowledge. How did you learn so much, what's your background if you don't mind me asking.
Well... Actually I've already written most of that up here:

http://chronomaddox.com/likes.html

As for other details I don't mention... My family has for at least the past 4 or 5 generations been in the business of building Golf Courses. Starting with my great-great-grandfather Asa after the American Civil War, through my great-grandfather Gene, my Grandfather (Charles Sr., Father (Chuck Jr.), my Uncle Bill and I myself did it for about 10 years myself with both my father and grandfather. So I've lived all across the U.S. spent a lot of time on job sites, and the highways between them etc. When we had a slow time of work in the late 1980's I got the first of a succession of jobs in my field of study (Computer Science) and got away from that. I do not know at this point if the next generation will continue with the family craft or not. My uncle is still actively involved in projects, so while I do not have kids, my uncle Bill's three grandsons might take it up, I don't know...

While always interested in watches and chronographs, I was pretty much a clean sheet of paper prior to November 1998... All I know I've learned in the time since.
This has really helped me deal with things oddly. I wore the watch today and took great care as I the strap pretty dodgy.
Straps are cheap. I'd start looking for a replacement. You can probably find one at the nearest Jewelry Store or Department store.
Cheers,
Tim
Cheers!

Chuck

P.S. Don't look too deep on my watch page or you'll likely get addicted to watches! -- C