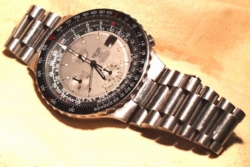 Then one day I saw a Heuer Quartz Pilot's Model in a store window and I decided that I had to have it. This Heuer, the same one that I'm wearing as I type this, "welded itself to my wrist" and was a near-constant companion for over 15 years at least when I wasn't in a "High-Risk" environment... At the time I made my living working heavy construction: Operating Bulldozers, Scrapers, Graders, Backhoes, and the like. Shortly after purchasing the Heuer, I was doing christmas shopping in Chicago and happened into a pawn-shop on State Street (that great street). At the time State Street had been converted into a pedestrian mall (which usually kills all of the business for blocks around). To be frank, just about everything in the store was junk. But there was one watch that stood out. It had a twist-o-flex band but the dial said "Omega Speedmaster Professional Mark II"... The thing was HUGE! 15mm thick. It had a price tag on it: $115, cash.

All of the functions seemed to work well. I bought it on the spot to serve as my work watch. I replaced the band the same day. About two weeks later the (center) second hand stopped rotating when the chronograph was operating, So I paid a guy at a watch store $5 to fix it (which took all of 10 minutes).
This was the only maintence (except for bracelets) that the watch has recieved until October 1999 when I had it cleaned and serviced. Even before I took it in it was keeping great time, A trait that it contiunes to exhibit. I have since ordered a NOS Dial, Crystal and set of hands for it, and eventually had it restored via a local watchmaker. I detail that story with before and after pictures, here...
For a long time these two chronographs were my main watches. Every once in a while I'd pick up a "beater" Casio or other off brand on a lark, but for the most part it was the Heuer-Omega Tag-Team. When someone tells you that a manual wind watch is more fragile than a quartz, be sure to tell them avoid me as I'm an argument looking for a place to happen! =) They can be more sensitive to shock, but the good ones are solid enough for anything but the absolute extreme, and at that point even a Analog Quartz would have problems too!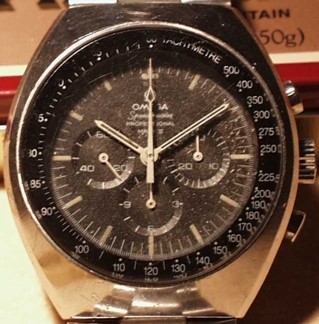 In November 1998, during one of my Heuer's periodic visits to get a fresh batttery and routine servicing, a TAG-Heuer Kirium Chronograph in Electric Blue caught my eye, I asked to try it on, and knew I was in trouble. It was and remains the most comfortable watch I had ever had on my wrist. After heming and hawing for a couple of weeks I bought it. It remains the most comfortable watch I've ever had on my wrist, followed by a Delryn bracelet IWC Porsche Design Chrono, and the Omega Seamaster Pro Chrono in Titanium.


But at the same time as I took my Heuer Pilot in for a Battery change and re-seal, I went through all of my watches, and all of them (All Quartz except for the Speedmaster Professional Mark II) needed batteries! So I started looking around the web and I discovered the large number of watch and horology sites on the web, and the large number of interesting watches being sold on eBay and other web sites. I quickly came to the realization that all of those watches that I admired when I was a younger, I could afford if I chose too as long as I took my time acquiring them. So I started to collect Chronographs. I have always been a fan of the James Bond Movies, and the many other similar series of the 60's and later. Mission: Impossible, Derek Flint, The Saint, The Man From U.N.C.L.E., Search (Probe), The Persuaders, Matt Helm, Avengers, UFO and other films and TV series have left their impression on me. Here is a link to a couple (1,2) of pages that discuss watches in movies... In any case I tend to gravitate towards watches that have the following features:
Chronographs, almost always 3 Register (only rarely 2 Register and I love 4 register but they are few and far between). Typically but not always Automatic or Manual Wind. Almost always Titanium, Stainless Steel or PVD Black coated Stainless Steel with a Bracelet as opposed to a Strap. Usually I prefer the registers to be the same or a complementary color to the main dial color, although as time goes on, I'm losing this predjuce. The majority of my watches have a black dial but I have but quite a few have other colored dials. I am a big fan of Slide Rule equiped watches, Day-Date is a definate plus, and I prefer good readible luminous hands. This is not to say that any or all of these features are a must... I will also occasionally purchase a watch that is unusual or interesting that does not fit this pattern very well at all. One of my favorite watches is an Omega Flightmaster with a Khaki colored dial with Chocolate colored subdials. I also have a strong interest in "BullHead" style chronographs (ones with the pushers located at 11 and 1 o'clock as opposed to 2 and 4 o'clock). Since most BullHead's are 2 Register, the bulk of my two register watches are Bullheads.
Because of my tastes I have a number of watches that use the Lemania 5100 and the Valjoux 7750 movements. I also recently purchased a Vintage Zenith El-Primero which is another facinating movement being one of the first (if not the first) automatic chronograph movement. It also has the distinction of having the highest "beat-count" of any mass produced commerical watch movement in production today.
I have a strong affinity towards Heuer (pre & post TAG merger), Omega and Porsche Design (at least Orfina, and IWC varieties). I also like the looks of Bell & Ross/Sinn, Ventura, Tutima, and Ikepod. I also have a fondness for certain "middle" end vintage brands like Zodiac, Certina and Tissot. I have major approach/avoidance with Breitling watches... I like some of the looks, and the fact they sell more varities of Slide Rule equipted watches than any other manufacturer, but their watches look "busy", "ostentacious", even garish and overly flashy to my tastes. I'd rather have someone say or think "That's a beautiful watch" than "That's a flashy watch"... Compare the Ventura V-Matic Loga to the Breitling B-2. I mean what are the compass markings for anyway? It doesn't have a compass on it! Geez! That's Silly! I have recently bought a Breitling but it is a 1950's vintage Navitimer and is quite restrained in appearance compared to current models. In my opinion, tacky two-tones, rider tabs, bright "B"'s and Anchors on the second hand are not great contributions to the horological or design craft.
I am also not particularly enamored with Rolex... With my tastes, they only make a couple of models that interest me: Stainless Daytona's with either a white or black dial. Truth be told, they don't strike me as anything special, even at suggested retail, much less street prices. For the same money I'd spend on a SS Daytona, I could buy a Titanium Seamaster Chrono and a Ventura V-Matic or Zenith El Primero (and the Daytona would have a modifided El Primero movement!). Rolex also strikes me as a firm that has stagnated in terms of design and innovation to the point of stratification, and is living off of it's well-established reputation.