I should mention that at the time I made my living working heavy construction: Operating Bulldozers, Scrapers, Graders, Backhoes, Ditchers, Welders and the like. I should also mention that I intentionally took this pictures to show the watch in the worst possible light. As rough as this watch looked, it still was a handsome watch, very wearable, readable and exceedingly accurate (+/- 2 seconds a day worst case, usually +/- 1 second or better )...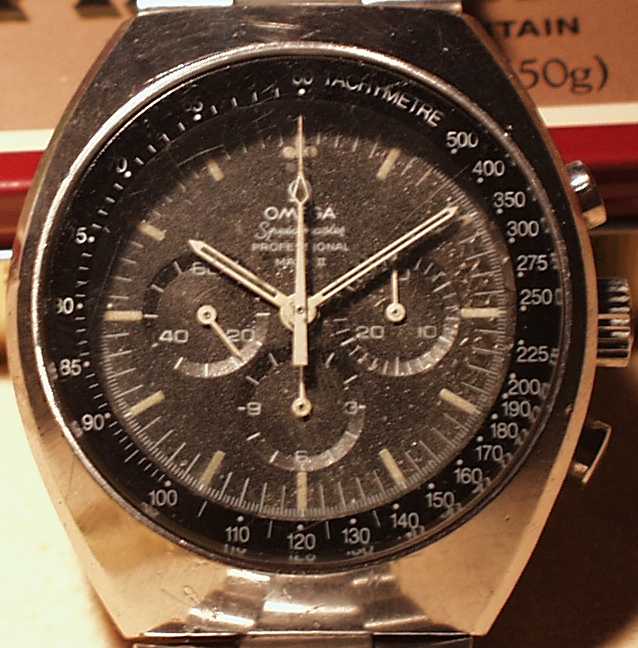 Here are the after photo's... It goes to show how far you can come with the proper parts to resurecting a watch that admittedly is in less than optimal condition...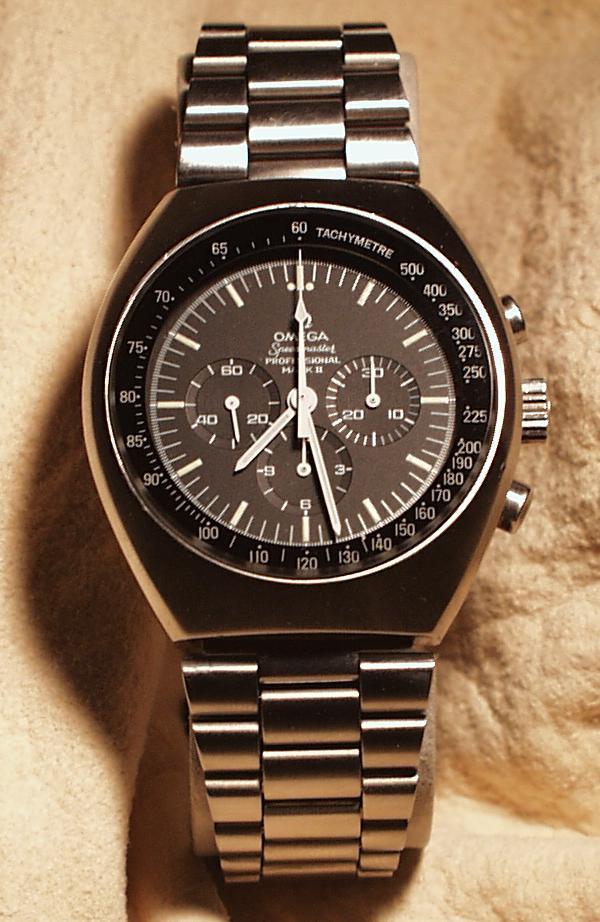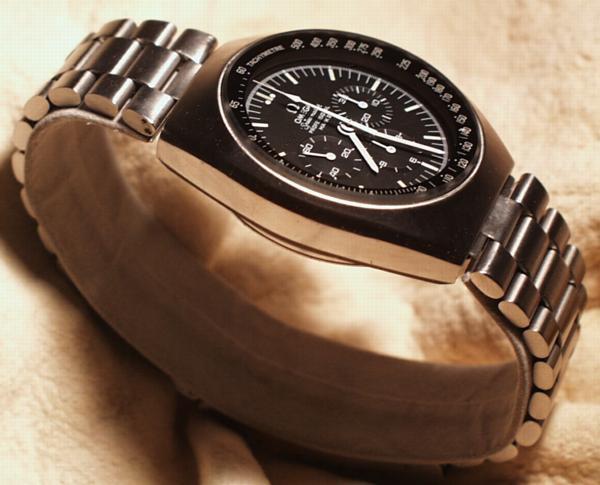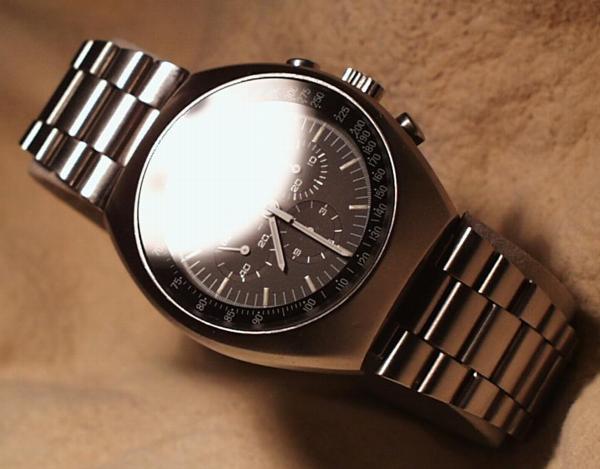 I think you can really see the difference if you compare the crystal before/after...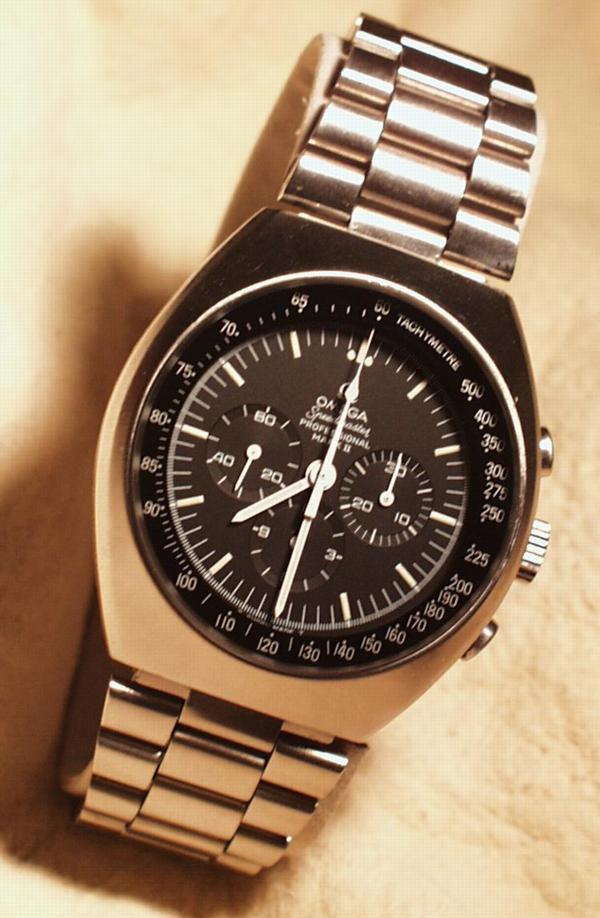 Overall, I'm very pleased with the watch. The watchmaker did a very good job on the watch and in particular the finish of the case. I really don't know what he did (perhaps ultrasonic cleaning) but the case has a nice finish which, while not "frosty" like a new watch is, is not polished and it's hard to see where/how it was brushed... It's very attractive and a vast improvement over the before condition.
Now my problem is that I have to find a new "High-Risk Environment" watch! But that is another tale in the making... I did hesitate doing this work on this one and just pick up another Mark II, but...
Thanks for being patient with my ramblings, I hope it was worth your while...
-- Chuck
---
I've had a number of very nice replies to this posting... I thought I would share a few...
Omar writes:

Very nice restoration job, congratulations and thanks for sharing it.

No problem, I'm pleased you (and everyone else) has enjoyed it...

How did you get the case to come out looking so sharp? Omar

Unfortunately, I really don't know what was done. I'll talk to the dealer who I dealt with and have him get in touch with the watchmaker. He had told the watchmaker not to polish it but the watchmaker could have subjected the stripped case (after all it was pretty much striped with a new dial, hands and crystal) into a ultrasonic cleaner of some sort...

[Since then I've talked with the dealer who handled the restoration and he said that it was his belief that the case was likely first cleaned with a ultrasonic cleaner and then lightly brushed]...
Russ Writes:
Thanks for the before and after shots. That looks like a new watch now. I'm sure it will get lots of wrist time now.

I think that you are right about that. The Mark II probably has had more wrist time than all of my other watches (with the exception of my old Heuer Pilot) combined, prior to this visit to the watch maker...

I've got a question about the work.

What percentage of the repair bill do you think went into "cosmetics"?

Well I should preface what I say with the fact that this is actually the second time that this particular watch has been back to this watchmaker. About 18 months ago I had located an original crown for the watch, and since it had never been serviced since I had owned it (ignorance is bliss if the watch is running great) I had it sent in then (I think it was October of 1999 for a clean/service/lube and to have the crown replaced. Which cost me $150.

Since then I had located and purchased a new dial/hands/crystal for the watch and decided back in February to have them put on the watch. So I sent it in and the cost was the same this time around: $150.
But remember that there was substansial work to be done to change all of these things... The movement had to be removed from the case, as well as the old crystal from the case, the old hands and dial had to be removed from the movement. Then the new dial installed and the hands carefully placed back on the pinions. Of course, removal of the crystal would greatly easy work on the case since the watchmaker didn't have to worry about accidentally nicking the crystal...

So grand total on this watch I've probably spent is probably close to about $775 or so:

Material/Parts:

Labor:

Watch:

$115

Chrono Hand Reset:

$10

Crown:

$25

Service, replace crown:

$150

Dial/Hands/Crystal

$225

Bracelet

$100

Restoration:

$150

Material Total:

$465

Labor Total:

$310

Materials (from left)

$465

Grand Total:

$775

Not bad for nearly 18 years of service...

If you consider the amount of time it takes to do these tasks, and even if I'm pessamistic and say it took 4 hours to do all of the work, it's less than $40 an hour, which is less than many auto shops charge these days. I think it's very reasonable. Now it took several months for me to get the watch back because the watchmaker (like most watchmakers these days) was swamped, but I have plenty of watches to wear...

I've never taken a watch in specifically to be refinished. I've asked the watchmaker to give it a polish, but they usually only work on the movement, and the case/crystal remains the same.

Did you find that this was a significant portion of the bill?

As I had the watch serviced about a year previously, I had told them that the movement was already good to go and I only wanted "body work" attented to at this time... So I'd say that all of the $150 that I spent this time went into the visual appearance of the watch, and not the mechanical.
---
Permission is granted for Eric Katoso, Damon, Derek Ziglar, Frank N., Ross or Robert Jan to include portions within the FAQ's they are writing as long as credit (and a link to this article) is given. Permission for personal, educational or noncommercial use is granted. The author retains all other rights not specifically mentioned here... For all other use please contact the author.

Disclaimer: Opinions are my own and knowing me should be taken with a grain or two of salt...