A collaboration between

Based on a thread from 19 June 2002,

Last Revised: 18 May 2003, 11:12 GMT.

In the early 1980's Heuer also produced a cushion cased Carrera sporting a Lemania 5100 under the dial. It is significant in that it was Heuer's first use of a Lemania chronograph movement. This particular chronograph is one of Chuck's favorite and more frequent daily wearers. It's dial is exceedingly readable, even more so than all the Omega Speedmaster c.1045's (Lemania 5100's) save the Moonwatch case model (ST 376.0822), which is an exceedingly readable chronograph in it's own right...

Perhaps this is one of the last "real" or "Old Heuer" watches. Like most European watch manufacturers Heuer was hit hard by twin blows of the quartz-boom and the "Japanese watch invasion". In 1984 the company was sold to Akram Ojjeh TAG-Group. The brand name changed to TAG-Heuer and nearly all the old model names were replaced by numbers. TAG-Heuer continued to sell the old models with Heuer markings until stock ran out of those dials. When they still had ebauches and other components they would sell newly produced "TAG-Heuer" models with the new logo in place of the old "Heuer" logo on the dial. Some notable examples are the 510.5 series of "Pasadena" cased Lemania 5100 Chronographs, and the Pilot's Chronographs. The latter remained in the product line largely unchanged through at least 1995 when a switch was made in it's quartz movement. Once these components were depleted to a certain level these models were discontinued for the most part.

At this time Heuer produced at least two distinct versions of the 5100 Carrera, the 510.523 Stainless Steel version as shown at right.

One of Chuck's Heuer Carrera 5100's Ref: 510.523 ...

Chuck's Heuer Carrera 5100's Ref: 510.511

(For the history of the company see: Brunner/Sich: "Heuer/Tag-Heuer", Editions Assouline, Paris 1997)

Some of the notable items of interest with these models is that neither the 510.523 or 510.511 possess a signed crown like most Heuer's of this era. I own three total of these two models, none of them, nor any other example I've ever seen for sale has had a Heuer or TAG-Heuer signed crown...

Additionally, while the 510.511 came most often on a "Jubilee" styled bracelet with five-element "half-moon" shaped links, the Stainless Steel 510.523 model came with a mainly flat link bracelet of a similar style to bracelets used on Micro-Rotor watches in the 1970's and the Carrera's other 5100 cousin's the 510.50x models, sans any PVD or bead-blasted finish. Also of note both of my 510.523's came with "TAG-Heuer stamped clasps. This would lead me to believe that the 510.523's production either started later than the 510.511 or ended later. Below is a catalog page from a 1985 Heuer catalog that represents a transition for the firm. The catalog is clearly marked "Heuer" and every single watch and reference within is of "Heuer" with the exception of the first page...

Scans of these pages of the 1985-1987 Heuer Catalog and Price list courtesy of David Alstott who lent this catalog (and many others to Chuck over the Winter of 2002-2003)...
A glance at the price sheet, dated April Fools day 1987, shows the pricing of the Carrera models to be lower than the other 5100 models in the product line at the time, namely $415 on Bracelet, $380 on a Strap (click on the graphic for a larger version to open):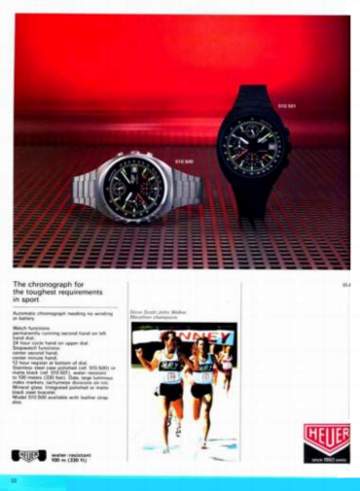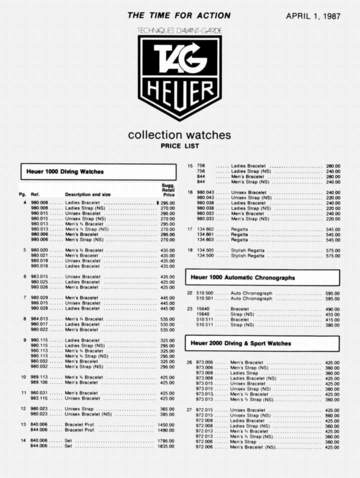 Click here to go to Part 5: The 1990's

Permission for personal, educational or non-commercial use is granted as long as this notice and the document remains intact and unaltered. The authors retain all other rights not specifically mentioned here... For all other use please contact the authors.

Disclaimer: Opinions are our own and knowing us should be taken with a grain or two of salt...