Chuck's e-Mailbox #2: Kansas Cosmosphere and Space Center

Easter Sunday 2003, I received an interesting piece of email from a visitor at the KCSC or Kansas Cosmosphere and Space Center... We shared several emails and with his permission I archived and posted the contents of those conversations and the pictures he sent.

Recently, just prior to Christmas 2006, he contacted me with concerns that the archive was now out of date and I said I'd create a "just the facts, Ma'am" version of the pecific information of interesting to Speedmaster collectors/historians as a preservation of the eariler information.

-- Chuck

---

First Message:

From: "Xxxx Xxxxxxx" <xxxxxxxxxxx@xxxxxxxxxxx.xxx>

To: <cmaddox3@sbcglobal.net>

Subject: Speedies on the Moon...

Date: Sun, 20 Apr 2003 17:46:26 -0500

Hello, Mr. Maddox:
My name is Xxxx Xxxxxxx, and I first want to thank you for all the information about Omega Speedmasters you make available on the Internet.
Hello Xxxx,

Please call me Chuck...
I want to bring some information to your attention that you might already be aware of, but nonetheless.... What Speedmaster calibre's that have been on the moon seems to be a constant question, and I might be able to shed a small amount of light on the subject.
Always looking forward to learning more about these things, and believe it or not I am constantly learning things...
I was a visitor at the Kansas Cosmosphere and Space Center in Hutchinson, Kansas. They are the number two space museum in the country behind the Smithsonian's Air and Space Museum and are well known for restoring the Apollo 13 and Liberty Bell 7 spacecraft. The Cosmosphere has two Speedmasters on display [Ron Evans Speedmaster was transfered to another museum prior to Christmas 2006], and the large, wall hanging Speedmaster that other museums have as well.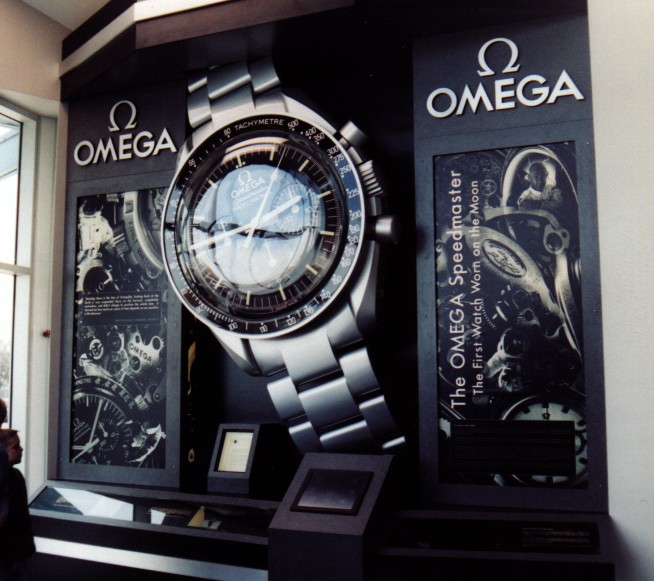 All photo's are courtesy Xxxx Xxxxxxx unless otherwise noted
I have to say, I've heard of this somewhat off the beaten path museum that is renown for their work in the past, I will have to make a pilgrimage someday...
They have Alan Shepard's Speedmaster from Apollo 14 and Ron Evans', Command Module Pilot, from Apollo 17 [ Evan Speedmaster transfered to another museum prior to Christmas 2006]. Both of these Speedmasters appear to me to be of the 321 Calibre, based on the dials and applied logos. This might mean bad news for those hoping the 861 variety had visited the moon. I have attached photos of these watches. I apologize in advance for their quality, this particular area of the Cosmosphere has a ton of windows, skylights and Plexiglas to drive even the seasoned photographer crazy.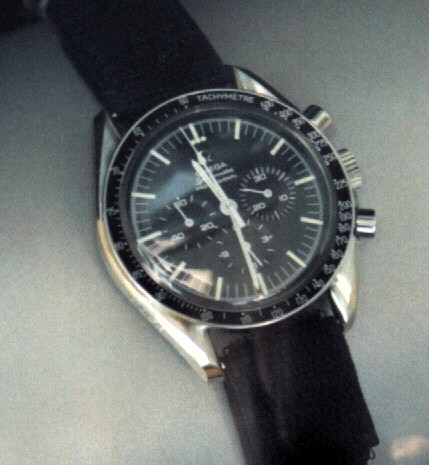 -- Alan Shepard's Speedmaster worn on the Moon.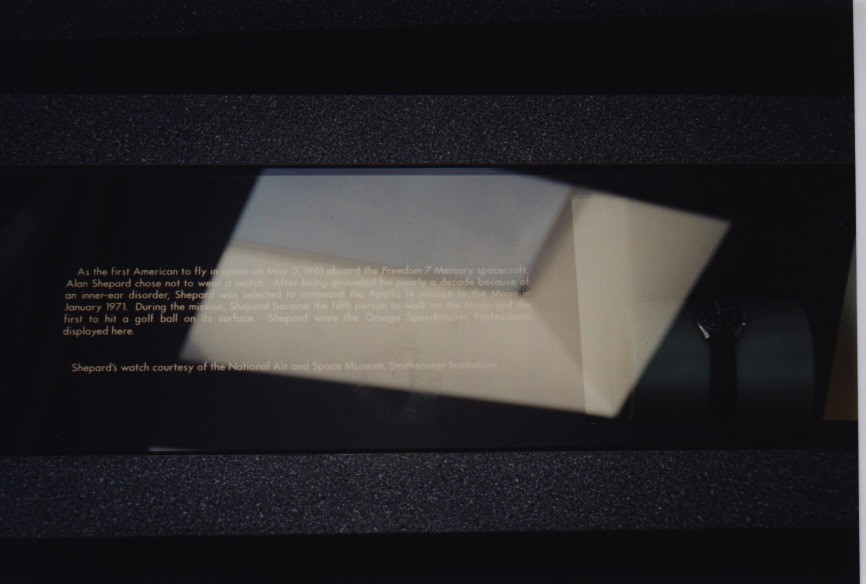 -- Info. Plate for Shepard's Speedmaster at KCSC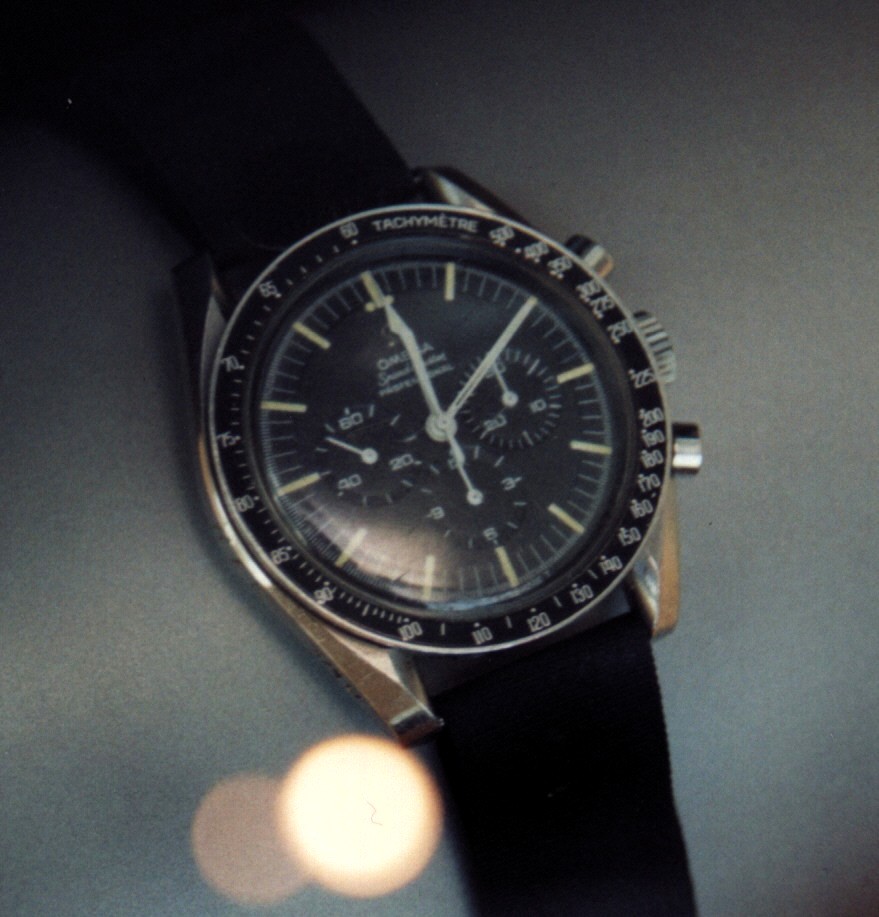 -- Ron Evans Speedmaster worn on the Apollo 17 Mission (Evans was CSM Pilot so he was only an Orbiter)...
[Note: since 2003, Mr. Evan's Speedmaster has been transfered to another museum].
The photo's look fine from my standpoint! May I post/host them so that we can add to our knowledge base on the topic at hand? [I did receive permission to do so]
I hope that the photos and information prove to be useful and not redundant for you. Let me know if I can be of any help
Thanks,
--Xxxx Xxxxxxx
Cheers!

Chuck

Here are some thoughts I have on the pictures at hand of the two Speedmasters:

We're able to see the Applied metal logo on both watches, a feature only seen on c.321 and a a few c.861's (the 1968's and some early 1969's), we're also able to see the hand styles, and the positioning of the "NASA Numbers" on the left size of the case. Some of us think we can make out if the numbers are rounded (like a 2, 3, 6, 8, 9, 0) or "pointy" like "1, 4, 5, 7" which narrows possibilities (if one believes their eyesight, LOL!).

The interesting thing is that Mr. Shepard's has the newer style hands (Slab Sided chrono second counter-balance) used on both c.321 models (starting with the later 145.012's)) and Mr. Evan's example has the earlier style of (Arrow point chrono second counter-balance) hands as used on the early 145.012's and previous models. We also have tables which we believe point to specific NASA numbers for the watches issued to Mr. Shepard and Mr. Evans as well as other tables which show other Astronaut watches. [Need to add links to appropriate tables, etc.]

---

Here is a link to KCSC should you wish to visit...

Cheers!

-- Chuck