In the late 1990's there seemed to be more firms who had previously produced automatic chronographs exclusively or primarily with the Lemania 5100 introduced new models with the Valjoux 7750 either in parallel with their 5100 offerings or to replace them. Bell & Ross introduced the Space 3 in two varieties of 7750, Revue Thommen replaced their Airspeed (5100 Based) with a Airspeed II (7750) line, and so on. So while Tutima, Sinn and others soldiered on the long-term viability availability of the Lemania 5100 seemed to be on shaky ground at best. Most of us who watch the currents of the Swiss watch industry while conceeding that some of this was probably attributible to firms wishing to keep their costs down in a world economy seemingly loosing steam since the "Asian Contagion" in 1997 and hence maintaining profits, the more open-minded of us would mention that perhaps the close shave the 5100 had with the executioner's block may have scared off firms who wished to produce 5100's, or perhaps a steady stream of supply wasn't as easy to obtain as the ETA/Valjoux 7750.
As early as early 2001, rumors of the demise of the Lemania 5100 started to surface around the web. Most of the time these rumors were second or third hand with little or no substanciation of any sort. Since the late 1990's the Swiss watch industry had been a story of massive consolidation. Indeed most of the major players in the watch industry (aside from steadfast independents like Rolex and Breitling) had been either purchased (both quietly and as the result of a very public bidding process) by the major consortium's. The largest of these consortiums being Swatch Group, Louis Vitton Moet Hennesy, Richmont and Movado group. While a large number of Independent watch firms still exist, notably 5100 users Fortis, Sinn, Tutima, and Bell&Ross, Lemania itself was acquired by Swatch Group since the original Chronos article.
These rumors were persistant and I personally had the opportunity to ask both Michael Kobald (of Kobald watches) and John Sokol (the Technical Director of ProTime Service the division of LVMH which handles service for watches produced by LVMH holdings in the USA) at a TZ get-together in Chicago in late April 2002 directly on the topic. The consensus was that Nicholas Hyaek (in charge of Swatch Group) had decreed that Lemania movements would only be available to firms under the Swatch Group umbrella, and that since no Swatch Group Firm was currently producing a 5100 based watch, it was effectively discontinued because of this edict. The only exception was the firm of either Sinn or Tutima, which had a contract to supply watches to the German military, was either able to continue to obtain movements for that purpose for the length of that contract or had sufficent stock on hand to continue to offer Lemania 5100 based models, after which it was likely, if nothing changed, that the 5100 would be either discontinued or at the very least put on hiatus until such time that Swatch Group felt like resuming production.
I have no reason to doubt these reports. New examples of 5100 based chronographs from certain manufacturers seem to still be available. Not surprisingly, Tutima and Sinn are the two most widely available. Fortis does not list 5100's on their site any more, nor do Bell&Ross or Revue Thommen. While the sun may not have set on the 5100 movement yet, it is difficult to deny that the sun sits close to the horizon at the moment. Vintage and more contemporary 5100's on the secondary (used) market seem to be fewer and farther between and they seem to draw a premium in most instances.
Adding to the equation is a small renaissance in automatic chronograph movements. Omega has in parallel developed in association with F. Piguet the "Broad Arrow" movement, and a Co-Axial automatic chronograph movement based on the Daniels escapement, Rolex has developed a "clean-sheet" automatic chronograph to replace it's dependence on the Zenith El-Primero movement, and Zenith has become more active, since joining the LVMH fold, in developing elaborations of it's El-Primero movement. However, all of these movements are premium movements with a price tag to match. The least expensive of these has a $4,000 Suggested Retail Price admission fee, and a heavy emphasis on "and UP!"...
It would be a shame to see 5100 production to cease. It is a movement of great utility, durability, useability and economy. It's only competitors in it's price range are the ETA/Dubois-Depraz piggyback chronograph, and the ETA/Valjoux 7750. While not a pretty or fancy movement, the 5100 reminds it's many fans of the most robust of equipment. The Soviet military was a firm advocate of the doctrine of durable, robust equipment that would take any abuse that it was subjected to and continue to function effectively (reference the AK-47 Rifle, T-34 Tank, etc). It would be ashame to see such a useful chronograph movement fade from the scene...
For more on why I like the Lemania 5100 movement, take a look at a piece I wrote on that topic, reachable via this link here: Why I like the Lemania 5100...
---
February 2003 (Basel Update):
Most recently TAG-Heuer has announced in advance to Basel 2003 a new model called the 2000 Aqua Graph. This model while having a Tri-Compax layout bears a striking familiarity to the layout of the Lemania 5100: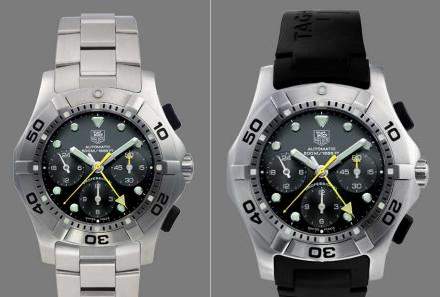 We have a center chronograph minute hand and a 24-hour (military time) subdial at 9 (which is where the 24-hour sub-dial would be if the 5100 was rotated 90 degrees - Bullhead style). TAG-Heuer calls this the Calibre 60 Automatic movement. The only thing the watch appears to be missing over a fully featured Lemania 5100 is the Day-Date feature, and who knows, with some development that may happen too. This watch may eventually develop to be the Lemania 5100's spiritual if not feature successor. But only time will tell. This setup is very similar to the Lemania 5100 in outward appearance, however, it appears that the movement itself is a ETA 2892-A2 with a Dubois-Depraz 2073 chronograph module. It is unknown at this time if the 2073 module is improved any over the previous modules produced by Dubois-Depraz is yet to be seen. Supposedly, Dubois-Depraz purchased the LWO 283 module movement from Lemania, if so and they learned from that transaction it's possible that the new combination is worth consideration. Only time will tell.
---
I do not claim any rights over the portions of the document that are not mine, and I have tried to graciously honor the wishes of the author/rights holder when contacted. I am hosting this information strictly for educational purposes. Special thanks go to Sergio Lorenzon for his blessing to include links to his library of Lemania 5100/Omega 1045 Movement photos which add greatly to this page... My comments are mine and probably should be taken with a grain of salt, but everyone is welcome to adopt them for their own!

Cheers!

-- Chuck